Apprx. 75 x 74 inches.

This is nice new Northwoods Pinelake, green, mottled brown, single irish chain quilt top that I made. The dark fabric is a pretty chocolate mottled brown. In the solid squares, you can do wonder quilting, or applique. This can be really beautiful with a little work and extra time. Make it an heirloom.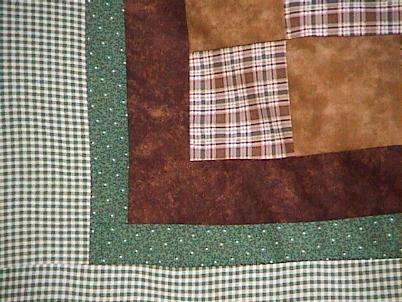 Made with new 100% cotton HIGH quality Marcus Bros., Maywood, Spring Industries and other good quality fabrics.




+++++++++


Here's The Current Temperature In Atlanta
+++++++++++++

*For your security in ordering from me*

(1. I have sold on eBay for over ten years. I offer a wide variety of items here on my website, but in order for you to gain a sense of security in buying from me here on my new website, you can view my ebay auctions, and view my eBay feedback by clicking on the link: Chicrafter


I gladly accept Paypal and US Postal Money Orders only. No personal checks at this time.


+++++++++ ++++++++++

Copyright ©HandmadeDIVA.Com 2019
Copyright ©The QuiltSALAD Shop.Com 2019 All rights reserved.