Apprx. 69 x 58 inches

This sale is for a beautiful newly made lavendar, yellow, green single irish chain quilt top.




I added the Ohio star variant blocks on each corner to make this top more unique. All fabrics are 100% cotton except for the solid yellow that is a good quality cotton blend.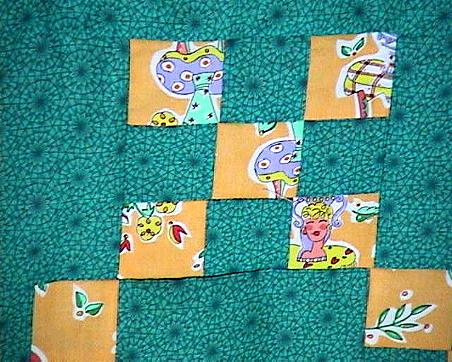 This top will almost fit a full size bed. Add a beautiful border to enlarge it if you would like to.

My tops and blocks are pressed during and after construction.

Made in the U.S.A. in Atlanta, Ga.

FROM A SMOKE FREE- pet free HOME.





+++ The items below are for sale; and are items that I made. They were listed on the Etsy handmade items shop. Click on either to view and / or purchase.




The items in the box above are for SALE, and are MY items that are listed on the Etsy website. Click on any item to view and/or buy. All made by me. All G-R-E-A-T. +++++++++


Here's The Current Temperature In Atlanta
+++++++++++++

*For your security in ordering from me*

(1. I have sold on eBay for over ten years. I offer a wider variety of items here on my website, but in order for you to gain a sense of security in buying from me here on my new website, you can view my ebay auctions, and view my eBay feedback by clicking on the link:Chicrafter

(2. I, also, sell on the Etsy, the handmade items site. See my items there by clicking on the ETSY button:


I gladly accept Paypal and US Postal Money Orders only. No personal checks at this time.


9-08-08

+++++++++

++++++++++

Copyright ©HandmadeDIVA.Com 2017 Copyright ©The QuiltSALAD Shop.Com 2017 All rights reserved.